How Smartchartz Was Founded:
If you've got children, being efficient and effective at work doesn't always mean that you'll have the upper hand at home.
That's what Abiola Ajayi-Obe found when she left her job as an NHS Risk Manager in 2001 to become a full-time mother to her two children after the departure of a much-loved child minder.  Finding that managing her children was as challenging as managing the NHS, she decided to adapt the risk management systems she had used at work, to her home life.  Abiola came up with a simple task, consequences and reward system and explained it to her children, who were both excited as they could clearly see what was expected of them.   She turned this into a cleverly designed chart, changing negatives into positives, and from the moment she put the chart up in her kitchen, their lives changed for the better.
When other parents became excited at the chart system, Abiola decided to get some printed for her friends.   But when her printer became excited too and told her that parents worldwide would love such a product, she realised that her simple idea could have mass-market appeal and in May 2003, SmartChartz was born.
Today SmartChartz products are sold both in the UK and abroad.
In addition to SmartChartz products, SmartChartz today also provides teacher training and adult leadership courses on behaviour management strategies, parenting courses and programmes  and conducts Emotional Intelligence Competencies' assessments and leadership training to businesses that need their staff to have higher level interpersonal skills.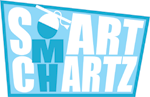 Over the past couple of years Abiola has been providing Whole Class Behaviour Management Training to teachers and particularly teachers in music services across the United Kingdom from the;- Western Education Library Board in Northern Ireland to Coventry, Reading, Oxford, Leicester, Lincolnshire and Cheshire County Councils to Education Services in the London Boroughs of Barnet, Enfield, Newham, Merton, Sutton, Richmond, Kingston Upon Thames, Croydon, Lambeth, Haringey, Harrow among others.
Abiola inventor of SmartChartz, has won several business awards, has appeared on BBC Dragon's Den, Working Lunch, BEN TV and on numerous radio programmes.  She is a highly sought after speaker on child behavioural management and on her experiences as a 'business mum'.